After 2 years designing best-selling jewellery, Miguel Vieira has designed a new necklace.
Miguel Vieira is a man of strong convictions and beliefs; hence he wears two scapulars every day. For the designer, other than an object of devotion, the scapular is a symbol of protection and luck. This association led Miguel to reinterpret the scapular and create jewellery with a magical touch. Such jewels capable of becoming true amulets so that the woman wearing them never wants to take them off.
This new necklace idealised by the designer is the maximum exponent of these amulets, keeping the Hail Mary prayer in its entirety, like the other jewels in the collection.
The jewel bears the Hail Mary prayer in silver, two lateral cylinders in gold, a white setting and the thickness of a chain, so that it can be worn every day.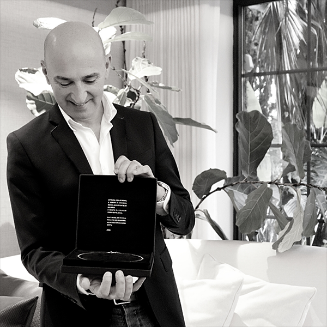 "Much more than a jewel, I want it to be a real amulet, so that the woman feels protected and never wants to take it off".